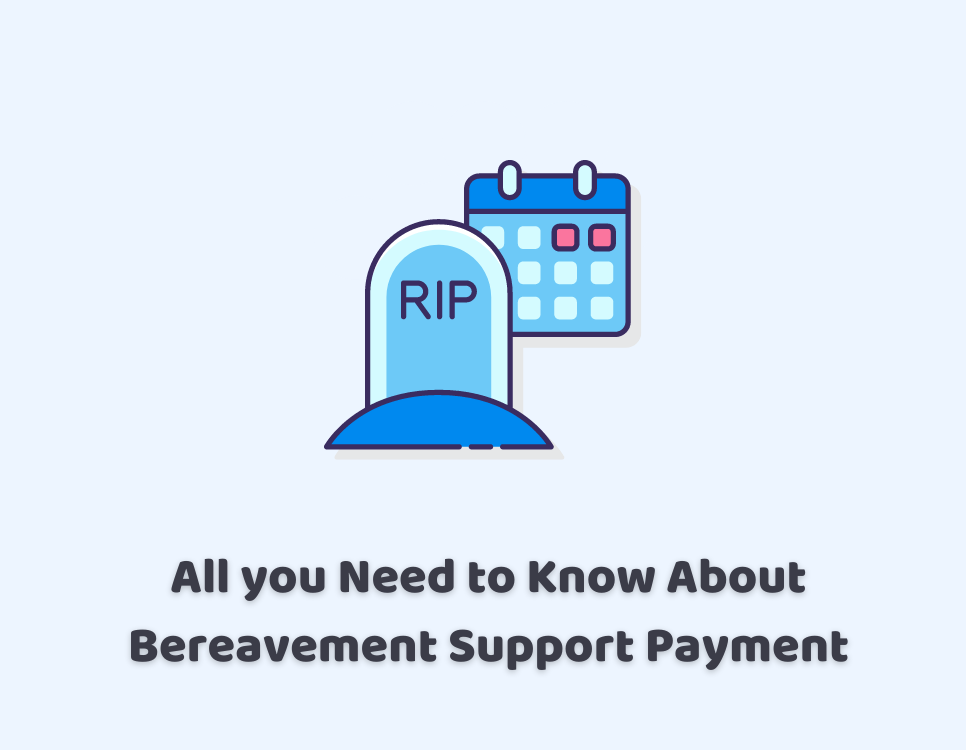 All you Need to Know About Bereavement Support Payment
Are you struggling with the loss of your spouse or civil partner after their demise? In case you are residing somewhere in the UK, here is something with the discussion of Bereavement Allowance that can help. To bring ease to your financial worries that you might struggle without a partner, a bereavement support payment is the best possible solution. Before we delve further into the discussion, a basic understanding of what is bereavement support payment is a must.
We offer our accounting services to self-employed individuals, freelancers, and influencers who are ready to run their businesses as self-employed. Do reach out to learn how we can help you.
Basic Understanding of Bereavement Allowance:
After the unfortunate loss of a civil partner, or spouse (husband or wife), an individual becomes eligible for the welfare benefit that is known as bereavement payment allowance.
The best part of the bereavement allowance is that it does not depend on the amount of income a person earns or even if one works or not to make both ends meet. In other words, we can simply say that this payment support is not at all means-tested.
This support payment was known by the name of widow's pension. Moreover, the name has changed recently and with that, the way of claiming has also changed. The old system allows claiming for either widow's parent's allowance, bereavement payment, or widow's pension.
All of the above-mentioned allowances are now merged into bereavement payment support.
The question that might pop up in your minds by now could be how much amount can I get by the support payment. Read the following to learn the details:
An amount with a higher rate is £ 3, 500 and the lower rate is £ 2, 500.  In a lump sum if you are the only individual.
If you are the only one the instalment of 18 months will be £ 100.
It varies again in the case of children and the amount of instalments becomes £350, moreover, this happens when you become eligible for the child benefit.
Are you running a limited company? We have guaranteed satisfying offers to solve your accounting problems. Reach out to one of our professionals instantly to learn more.
What are the Eligibility Criteria:
There are certainly some conditions to be eligible for bereavement allowance and here are these listed for you:
You are eligible for bereavement support payment in case your spouse or civil partner demised within the last 21 months.
The individual must be under the pension age as the same person can't get two support allowances at the same time.
The allowance must be claimed within the time period of three months of the death of one's civil partner or spouse. You will get the full payment in this way. Otherwise claiming within 21 months will get you fewer monthly payments.
The bereavement allowance is eligible if the demise tragedy has happened after 6th April 2017 or on the mentioned date.
National insurance is paid for 25 weeks or more in one tax year by your partner.
In case you are a prisoner, consider yourself ineligible.
You must be a resident in the UK or in a country that allows paying bereavement support payment.
In case your spouse or civil partner died before 6th April 2017, there are chances that you can avail of Widowed Parent's Allowance.
Speak to one of our qualified accountants? Give us a call or request a callback. We are available for tailored services that suit your business's unique requirements. 
The Process to claim Bereavement Support Payment:
Here is a discussion of the terms and conditions about how one can claim bereavement support payment. The following are needed if you intend to make a claim:
You are required to provide a national insurance number.
Provide your bank account details or building society account details.
The date on which your partner died is needed.
National insurance number of your spouse or partner.
Once done with the above-mentioned requirements, you can apply online, by telephone, or by post.
Moreover, if you opt for applying online, it is important to know that applications are accepted in a limited number on a daily basis.
Final Thoughts:
Now that you have a basic understanding of bereavement support payment, the discussion can be summed up by saying that the amount of sorrow and loss is irreplaceable after the demise of a partner, however, the financial struggle that you might face after them can be taken care of in a good manner.
We hope the development of the basic understanding of bereavement support payment along with the eligibility criteria and the simple explanation of the claiming process will bring a little ease to your struggle.
Still can't find what you are looking for? Arrange a meeting or request a callback to speak to one of our professionals to get instant help just the way you desire.
 Disclaimer: This article is based on general information about Bereavement Allowance and does not intend to challenge professional advice.
---