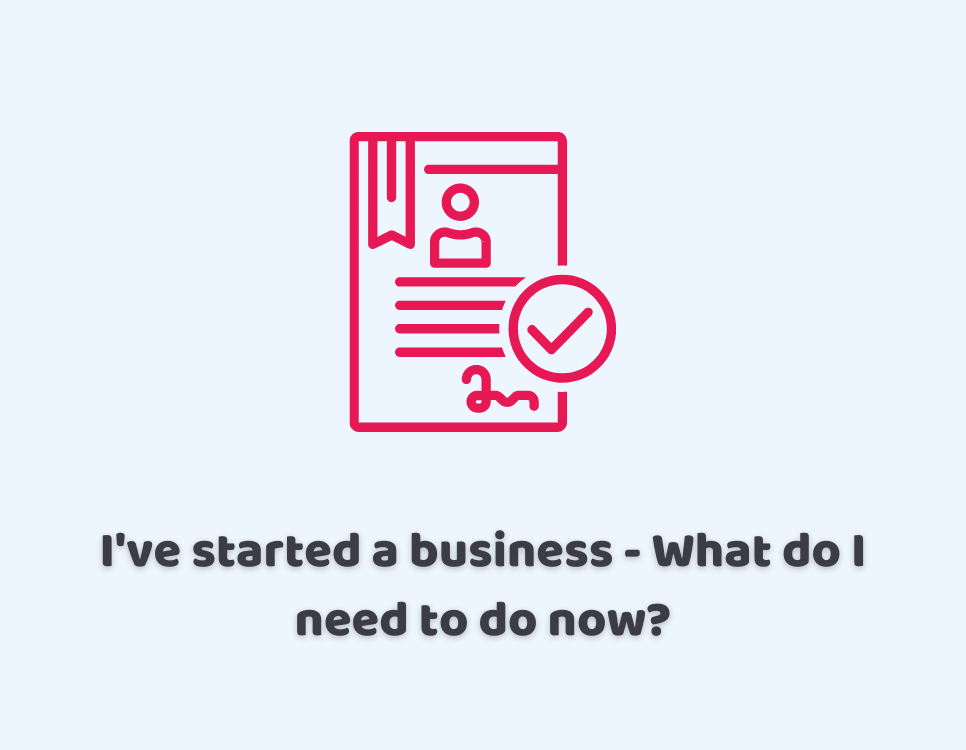 I've Started a Business – What Do I Need to Do Now?
Have you just thought about getting into a new business and wondering how you can join a networking group? Getting your business an enchanting logo and looking for unique ways to attract customers can be the pretty fun part of the beginning. However, do you ever think that "do I need to register my business" while you are enjoying the marketing of your business, a couple of finance matters need research for better implementation as well.
Once the finance part is stable, you are good to focus on good marketing strategies and ready to enjoy the business growth. Before we delve into further discussion, we need to have a look at the focused points of discussion in this article. This includes the following:
Choose between Self Employment or Trade Through Limited Company
Limited Company – Incorporate
Do I Need to Register My Business?
Business Account
Consider the Deadlines
The Bottom Line
 looking for a helping hand? How about you get our guys on a quick call. We love talking about taxes, payroll management and any opportunities that help you expand your prospects. Call us on 020 8686 8876 or email us today.
Choose between Self Employment or Trade Through Limited Company:
According to a famous saying choosing the right path means you are halfway there already. Giving time to seriously consider the pros and cons of being self-employed or trading through a limited company is a wise suggestion here. The need in the case of trading through the limited company is to develop one first before making purchases and invoicing the customers.
Several people tend to choose self-employment at the development stage and then plan to switch to a limited company. However, an important factor to consider here is that you can't go to self-employment if the trading through a limited company has started in the business.
Do you seek professional help to know the right business option for yourself? Get in touch with one of our experts to get instant help on your business matters. Do reach out today!
Limited Company – Incorporate:
Once you are sure that trading through a limited company would be beneficial for you then you should:
Start gathering the ideas to set up your own company.
Seek a professional accountant to help you to incorporate the limited company.
Look for a unique company name and be sure that name is not already taken.
Fill the required forms and you will find the companies house to be with you in every step.
Do I Need to Register My Business?
Registration is an important part of the fundamental stage. If you plan to go self-employed, contact HMRC for self-assessment. This fulfils the purpose that you are bringing into HMRC's knowledge that you are a person who is self-employed. By doing so, you will be bound to pay tax returns at the end of the tax year as well.
In case you have started your business in May, you are not required to inform HMRC instantly but you can do the needful by the end of October.
Business Account:
Setting up a business account is the basic step that you must do even before the business is set up. Due to the reasons:
It will be easy for you to check the business profitability.
Accountancy fees will be reduced due to the fact that bookkeeping is way easier because of fine tracks.
HMRC investigations will not reach out to your personal information.
Moreover, in the case of a limited company, one thing to consider is that the business account must be in the name of your company. Due to the fact that personal accounts or the accounts without company names carry the money that is treated as it is removed from the company.
Consider the Deadlines:
Track your deadlines in your personal diary in case you choose to be self-employed. Every tax year will require self-assessment tax returns.
The tax year starts from 6 April and ends on the 5th April of the coming year.
Tax returns must be completed by the following January.
For instance, you have started your business in May 2019. The first tax return is from 6 April 2019 to 5 April 2020. You can submit your tax returns as well as your tax bills by the end of January 2021.
The Bottom Line:
Now that you have developed a better understanding of do I need to register my business and relevant details, we can sum up the discussion by saying that starting a business may sound fun in the initial stage, however, there are certain challenges that might meet you along the road. By following the discussed information, you can make it a seamless process.
We hope this article helped to develop a better understanding.
Seek professional help with Accountants in London. Get in touch or ask our accountants about your concerns.
Disclaimer: This article intends to provide general information based on new business development ideas and answers do I need to register my business.
---