What is Crowdfunding and How Does It Work?
The crowdfunding platforms provide small businesses a way to quickly raise large sums of capital from various minority lenders, customers, or investors in a short period of time. This type of fundraising is becoming more popular, and it is being utilised to fund not only businesses but also creative projects, social movements, etc. Therefore, in this blog, you will know how does crowdfunding work and its further details.
Manage your business finances with CruseBurke. Just let us know your need for affordable financial services tailored to your business needs!
What is Crowdfunding & What are its types?
It is a way to raise capital. You ask for money from a lot of people at once, often through the internet. You will have to decide on a target amount and pitch your next project or business information to your potential crowd of investors. Then raise the entire amount of money to proceed.
Types of Crowdfunding
The following are different types of it.
1) Loan-Based Crowdfunding
 In this, the amount of money is lent to your company at an interest rate, which is fixed.
2) Investment-Based Crowdfunding
In this type of crowdfunding, people invest in your company for a share in return.
3) Donation-Based Crowdfunding
In this, people contribute to your charity in exchange for something promised in return.
4) Reward-Based Crowdfunding
 In exchange for a person's investment, you give a reward generally related to the project you are promoting.
How Does Crowdfunding Work?
In order to register your project, you will generally utilise a crowdfunding website online to register your project and start raising the money. Some of the popular websites are stated below.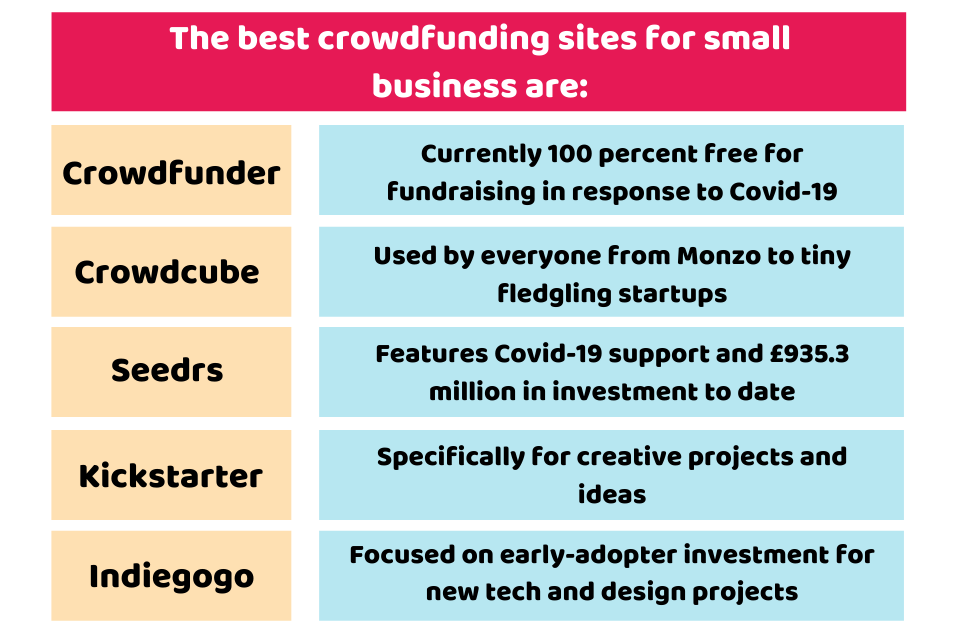 After choosing the site, you will have to register your project. Keep in mind that along with registering, you are informing your audience about yourself, like what you want to achieve and why does the audience investment is too valuable.
Hit Your Target
When your campaign is up and running, then it's time to advertise it on your email list, social media, and anywhere else where you have an interested audience. Tell them details about how their donation is going to assist you in improving your business for them. Keep your audience updated about the ongoing process of fundraising and maintain enthusiasm.
Key takeaway: Most of the platforms or websites take an approach (all-or-nothing), which means no money will be paid to you if you do not hit your target. Therefore it is important to go all out on your other websites 0r platforms in order to raise awareness.
Where is the Money?
 As long as the campaign is within the time period set from the beginning, your investors can not pledge money at any stage of your campaign. But once it is not within the timeframe, the investors can commit the funds at any point. Once you reach your target and the campaign ends, your crowdfunding website or platform will deduct a percentage from the total amount of money raised.
When planning your crowdfunding campaigns, you may also have to consider tax obligations. For instance, investment and reward-based crowdfunding is generally categorised as revenue and can be liable to revenue and sales tax.
CruseBurke has a team of accountants to provide affordable financial services for you. Feel free to reach out!
Do I Need to Payback Crowdfunding?
It is based on the type of crowdfunding you are going for. For example, with reward and donation-based crowdfunding, people invest for various reasons, usually through social or personal motivation. But, it is not for heavy financial gain.
In loan-based crowdfunding, the investors, often with interest, receive their amount back. And, in investment-based crowdfunding, people generally invest money for your company share. Therefore, they will see the rise and fall of the value of their shares. But, you will not have to pay them back.
Conclusion
Now that you know how does crowdfunding works, you must also know the harsh facts of crowdfunding. You have established high public expectations, so missing promised deadlines or failing to meet their expectations will irritate people. In addition to that, you can have bad publicity. The smart strategy is to stay engaged with your audience and share your journey with them. If your audience is aware of your challenges, they will forgive a lot of things.
It is always advisable to get help from a financial advisor to flourish your business. So what're you waiting for. Contact our financial advisor to skyrocket your business growth!
Disclaimer: This article intends to provide general information on how does crowdfunding work.
---