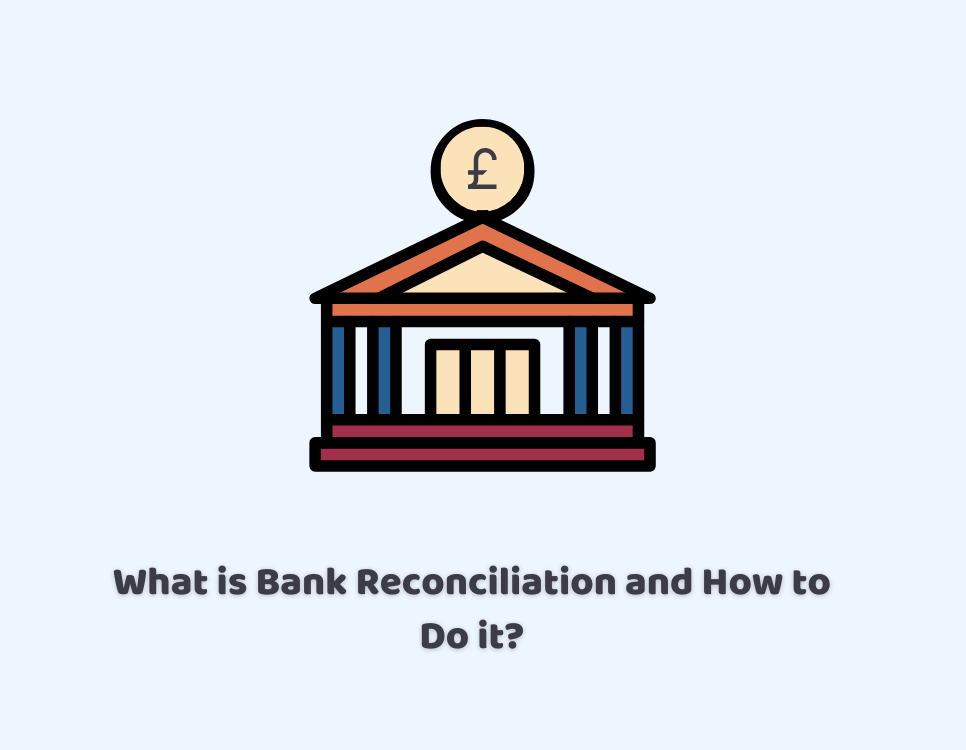 What is Bank Reconciliation and How to Do it?
In this digital banking system, many people overlook the importance of bank reconciliation. However, you need to remember that banks can also make mistakes. To find those mistakes, bank reconciliation is needed. So let's explore what is bank reconciliation and how to do it?
Bank reconciliation means to match the balances of your bank statement to your accounting records. This process helps us to correct errors, identify fraudulence, and locate missing funds.
Though connecting an accounting software with the bank is a great option to boost the reconciliation process. However, this process is not parallel to do bank reconciliation each month.
In this blog, we'll explain what is bank reconciliation, why it is important, and what are the steps to do it.
What is Bank Reconciliation?
It is the process of comparing your bank statement and your general ledger account in balance. You need to know that the transition of cash and bank accounts in your general ledger should show the same activity that is in the bank statement. In case if they are not matched, you need to find out the missing entries from the balances of the bank statement and general ledger. Then, reconcile them both.
So now that you know what is bank reconciliation. Let's see how to do it.
Need an efficient bookkeeper to record and manage your business transactions. Get in touch with us for the best bookkeeping services you are looking for!
Bank Reconciliation: Process
It is done for verifying the accounting records of the bank and the business. You can follow these steps for bank reconciliation: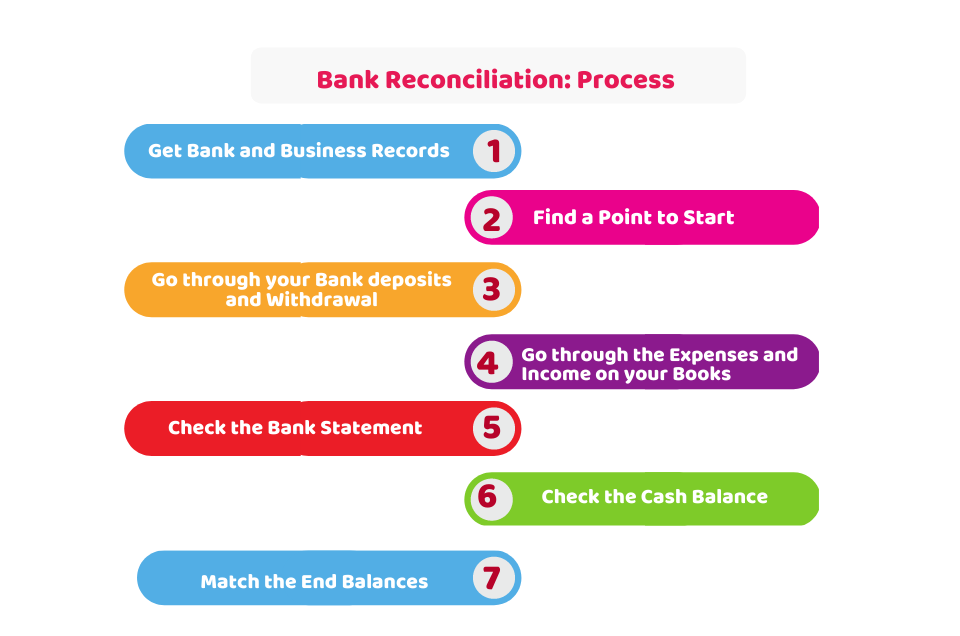 1) Get Bank and Business Records
You need to have a detailed list of transaction made by the bank through a bank statement, you can get it online or by your accounting software. Besides, you need to get your ledger account of your business outgoings and incomings. You can also get it from a spreadsheet, a logbook or accounting software.
2) Find a Point to Start
Find and compare the last time balance of your business books with the balance of your bank account. And begin reconciliation.
3) Go through your Bank Deposits and Withdrawal
Make sure all of your banking transactions are accurately recorded in your bank statement. Add the missing entries and categorize them into interest, sale, refund etc.
4) Go through the Expenses and Income on your Books
Check and match the entries of your books with the bank statement. If something is missing find it out. It can be something that you forget to account on your book or it can be a payment that is yet to be cleared.
5) Check the Bank Statement
Sometimes, bank statement doesn't show the accurate records as per the business's transactions. You might face troubles with bank errors or deposit, outstanding checks. So, you should do the changes to the bank statement.
6) Check the Cash Balance
You need to check and correct your business records accurately to match with the bank statement. You need to ensure that you have recorded all charges and deposits are in the cash account of the business.
7) Match the End Balances
After comparing and adjusting the entries, you need to make sure that your bank balance is matching your business accounts. If they are equal, it means the reconciliation process has completed. if not, you need to record the process again.
If you're busy with your business, save your time and energy by letting us know. Feel free to contact us!
Importance of Bank Reconciliation
It is used for multiple purposes. Here are some of the important advantages of bank reconciliation. It is used:
To accurately record the transactions
To detect fraud
To prevent administrative errors
To find out the delayed payments
To know the actual position of the bank balance
Quick Sum Up:
To sum up, we have discussed what is bank reconciliation, how to do it and why it is important. It used to be tough a decade ago but nowadays you can easily do bank reconciliation using accounting software that makes it faster and error-free. You can automatically import the bank transactions and can match and categorize transactions with a click of a button.
However, if you are totally new to it or you are running a large business, it might be complex for you. Don't worry, just contact us for affordable bookkeeping services. We have a team of expert bookkeepers and accountants for your help.
Feel free to reach out and get an instant quote right away.
Disclaimer: This blog is intended for general information on bank reconciliation.
---