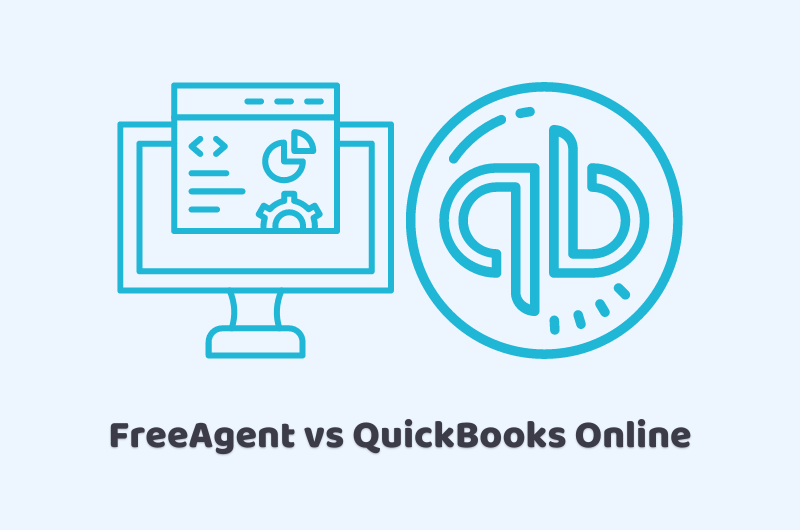 FreeAgent vs QuickBooks Online
If you are the owner of a small business in the UK, each penny that you are spending on your business will count in this journey. This will make you think twice before making any decisions regarding the business. Also, spending on buying accounting software that is just suitable for your unique business needs is also imperative to be cautious. People often get confused in making decisions between FreeAgent vs QuickBooks. These are known to be the top two famous options designed for entrepreneurs. You must be wondering whether to go with FreeAgent or Quickbooks to meet your business needs.
Well, this article has covered what you might wonder about before you decide to choose the right kind of accounting software for your unique needs. This involves the discussion of what the targeted audience is for FreeAgent and Quickbooks, which one is the most suitable option for you, what features make both the options differ from each other, and how is user-friendly.
Talk to our best accountants and bookkeepers in the UK at CruseBurke. You will get instant help about FreeAgent vs QuickBooks whether you are running a small or large business.
FreeAgent vs QuickBooks
In the case of both FreeAgent and Quickbooks, they tend to target themselves with the entrepreneur market. Usually, the claim by these options tends to give us an explanation that they are able to cater for the business needs whether it is a small size business or a large size business. However, in actuality, these are most suitable for smaller size companies and digital businesses.
What is Suitable for Your Business Type – FreeAgent vs QuickBooks?
You are not going to need any of the employees who will see and cater for your account once you have opted for the smart accounting software considering your business needs. You will find yourself in a position to be free from managing and balancing the transaction of money and relevant details. As an owner, you should not be doing that rather you must focus on the business growth ideas.
It is also imperative to understand here that such programs are specially designed for small businesses and will be most suitable for them as well. If you think your business is associated with a treble-figure employee headcount or you have complicated accounting needs, this option will not suit you. You must go for another accounting package that can meet your business needs.
What are the Available Features?
A full-service accountancy software package is covered under both FreeAgent and Quickbooks accounting features. This will help you to keep a good track of your incoming and outgoing money. The spending is in the form of business expenses and your income. You can even get payroll services with these packages. However, if you have opted for Quickbooks, you will have to pay a little extra to avail yourself of this feature.
What makes Quickbooks different from FreeAgent is that it has a more complex reporting option in comparison to the other accounting software. This is why FreeAgent refers to a one-stop shop that can cater to all the basic needs of accounting for your small business. However, in the case of Quickbooks, manufacturing requirements and other challenging tasks of accounting can be catered to.
Which Accounting Software is more User-Friendly?
If you are wondering which one is the most user-friendly option of accounting then we can say that both compete with each other well in this regard. They aim to make you worry-free from the need for an accountant to keep your looks and other accounting records. These offers ensure to make the experienced user-friendly on the same level. If you try to compare the intuitive user interface between both options, this will be a tie. At the initial stage of the business, you can use Quickbooks as a suitable option as it will cater to all the basic accounting needs of your small business, however, the other option offers some complex features that might confuse beginners and they might not even find it user friendly at this stage.
The Bottom Line
Now that you have gathered a fair amount of information about FreeAgent vs QuickBooks, we can bring the discussion towards wrapping up. Generally, people find both the packages offered by this accounting software as the same with a little difference in offering the complex features and basic features. This totally depends on your business needs that you will have to identify to choose the most suitable option for you. We hope these few minutes of reading will help you to develop a better understanding of FreeAgent vs QuickBooks and how can you make a choice that turns out to be the most beneficial to your unique circumstances.
Are you seeking professional help to know about accounting software for a small business? Why not get help from the experts at the CruseBurke? Talk to us now!
Disclaimer: All the information provided in this article on FreeAgent vs QuickBooks includes all the texts and graphics. It does not intend to disregard any of the professional advice.
---