What is an Annual Return? – A Beginner's Guide
Every year, as a registered company owner in the United Kingdom, you must file your annual return to Companies House. In this article, we'll go over what is an annual return, what information you'll need, and what penalties you might face if you submit it late.
Whether you're just starting or have been in business for a while, our Chartered Accountants can help you build your business. So don't hesitate to get in touch with us now!
What is an Annual Return?
It is a document which summarises the general facts about your company, including: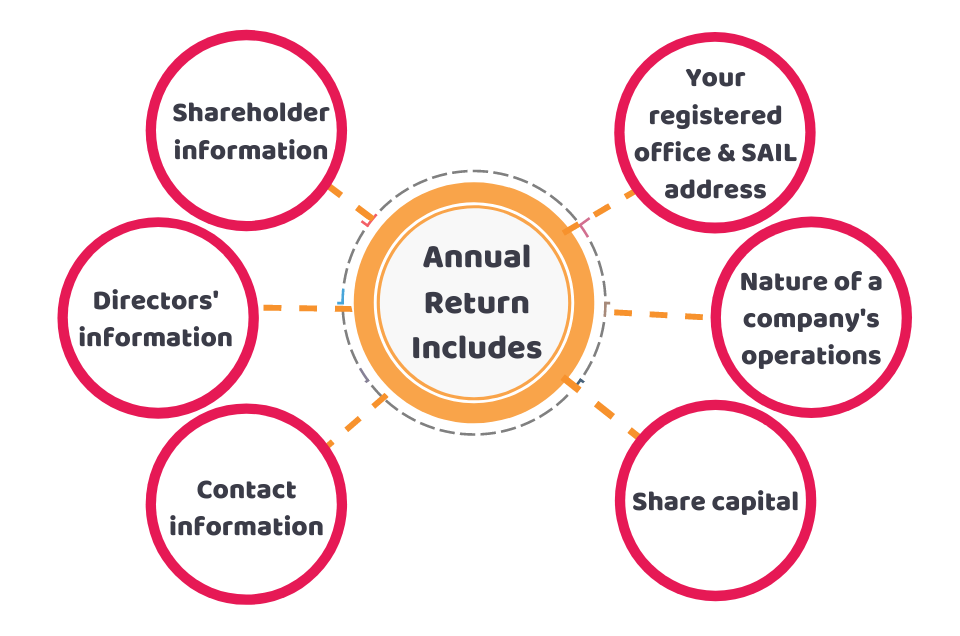 The 

nature 

of 

a 

company's 

operations

Your 

registered 

office 

address 

as 

well 

as 

your 

SAIL 

address

Share capital

Contact 

information

Directors' 

information

Shareholders'

information
Your annual return, as the name suggests, must be filed with Companies House every year. You have 12 months to complete your yearly return; however, you can submit your information more than once during that time.
This allows you to update business information without worrying about missing deadlines. You can avoid the delay by filing the most up-to-date company information first. Then, to give correct and up-to-date information, you can file a new return with Companies House detailing the modifications or updates.
Remember to keep your annual returns separate from your tax return and your company's annual accounts. You don't need to file the one because it's not the same as the other.
Information to Include in the Annual Return
The information that needs to be included in your annual return is as follows:
Name, DOB, residence, and other details about the company secretary and directors.

Your company's contact information, If there is no other address, records will be stored at the registered address and single alternative inspection location (SAIL).
The type of business you have (public or private) and the shares it issues. You must submit information to your stockholders in specific cases.

Information about the most important business activity. To describe what your company does, you must choose your principal business activity from a catalogue of SIC (Standard Industrial Classification) codes.
The Formula of Annual Return
The Formula of Annual Return is:
Annual Return= Final Value of Investment – Initial Value of Investment / Initial Value of Investment * 100
Unable to calculate your annual returns? Let our professionals handle this!
Company Owners are Legally Obliged to File an Annual Return
If you are an owner of a company, you are legally required to file an annual return on time, and in case you fail to, you may be charged with a penalty.
You can see late filing penalty fees from the Government of the UK.
File your Annual Return Online
 Through the Companies House WebFiling, you can easily file your annual return. It will only charge you around £13, and you can pay it through a credit card or PayPal.
To use this service, first, you need to get registered with Companies House for WebFiling.
Grow your Business with CruseBurke!
We hope you now have a basic knowledge of annual returns after reading this blog. Besides this, we know that you're busy with your business and have no time to handle company accounts, taxes and reports. Let us do that! CruseBurke is one of the UK's driving accounting firms with a group of qualified bookkeepers, chartered accountants, and tax specialists.
We solve your business problems with the best possible solution and take your business to another level. We provide accounting services for small businesses, startups, sole traders, contractors, partnership & LLP, and landlords. Get an instant quote now for these services!
Disclaimer: This blog contains general information about annual returns.
---